The Dreamsicle Body Treatment
Duration: 60 minutes + 30 Minutes Volcanic Rock Therapy - please allow 2 hours total.
$175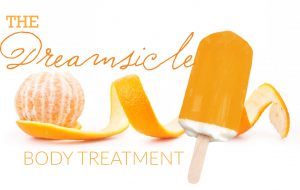 A little taste of your childhood summer in every treatment! Dry, parched skin is enveloped in a clementine scented blend of 6 nourishing oils. Your skin will be stimulated with a dry brush exfoliation (yours to take home!). Big Bare Body Polish will smooth all your rough edges and is packed with top performing peptides that visibly firm the look of skin over time by removing dead skin cells, revealing glowing skin underneath. Finishing off with a full body massage using Clementine Oil. Completely dreamy!
**30 Minutes of Volcanic Rock Therapy is included following your body treatment
** Please note that body treatments are performed by aestheticians not RMT's. If you require a receipt for insurance purposes please book an RMT Massage.