Groovy Moon Replenishing Facial
Duration: 60 minutes + 30 Minutes Volcanic Rock Therapy - please allow 2 hours total.
$175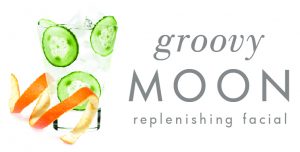 BEST ENJOYED: Far-out in relaxation
THE MOOD: Glow with the flow
This facial is best for oily, and combo skin types, or someone who just needs a replenishing boost of nutrients! This facial begins with a hydrating Green Tea Milk Wash and a nourishing tonic, packed with antioxidants to treat skin to hydrating splendor! A clarifying mud exfoliation with Arizona red clay and desert willow extract that draws out dirt, toxins, and bacteria, leaving unbelievably clear skin in its wake.  Next, an age-old peat mud nutrient mask envelops skin with green matcha tea, bioactive organic plant matter and minerals to rapidly bring cool relief to skin irritations. Any dark spots become a thing of the past with an application of Eternal Light™, a vitamin-enhanced illuminating serum. Total weightless hydration is yours with a FHF-grown micro kale extract moisturizer that delivers a clinical ageless peptide. End with an application of Crow Catcher ® eye transforming serum to smooth over the look of crow's feet for the ultimate renewed appearance.
*30 Minutes of Volcanic Rock Therapy is included following your facial treatment