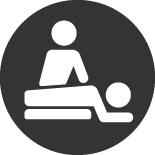 RMT Massage 50 min (Registered Massage Therapist)
Duration: 50 minutes
$139
Our Registered Massage Therapists (RMT) provide receipts for coverage under your group health benefits.
Select from one of our complimentary aromatherapy massage lotions designed especially for you:
Chill Lotion – Balanced. Cleared. Centered. Let us reintroduce you to complete relaxation. Allow yourself to remove the white noise and stress of everyday life and land focused on your wellness journey
Detoxify Lotion – Reset. Clean. Manage. Start anew by overcoming the stress our system endures on a daily basis. Your body will thank you by surrounding you with a feeling of well-being.
Rejuvenate Lotion – Restore. Vivify. Revitalize. Be refreshed with a renewed youthfulness. Sink into these transformational experiences and glow from the inside out.
Energize Lotion – Strengthen. Tonify. Exhilarate. Bring vitality back into your body and invigorate your mind and spirit. Gentle yet effective techniques enliven every cell.
---
Massage Upgrades 
Chill Eye Treatment – Refresh tired eyes with this cooling and firming eye treatment. $12
Rejuvenate Scalp Massage – Prepare for an awakening with this uplifting scalp massage. $12
Digital Detox Tech Hand Relief – Put down your tech and relieve your tired hands. $12
Ganban Volcanic Rock Therapy – Enhance your iwa massage and enjoy the detoxifying benefits. (45 minutes) $22
Massage upgrades can be added on the day of service.
---