QUICK LINKS:
Your Health History Form can be securely completed online prior to your appointment by clicking here: Health History Form.
Looking for directions? If you're using a GPS input 234 Gord Canning Drive, Town of the Blue Mountains in lieu of our mailing address. It will take you to the parking closest to us – adjacent to the Westin Hotel. We are located in the Mosaic Hotel, which is next to the North Face Store, just down from Magnone's, and across the pond from the Westin Hotel. Lost? Give us a call (705) 293-2492.
SPA POLICIES, ETIQUETTE & FREQUENTLY ASKED QUESTIONS
iwa Spa strives for each client to have a five star, relaxing spa experience. Please read through the information below so we can best serve you during your time with us.
BOOKING YOUR APPOINTMENT

Conveniently located in the Blue Mountain Village, the Spa enjoys high occupancy throughout the year. Although last-minute appointments are sometimes available, we encourage you to book your treatments as far in advance as possible, to avoid disappointment.
To reserve your appointment, visit us online, by phone 705-293-2492, or visit us in person. A valid major credit card number is required at the time of booking to confirm your reservation.
Please inform us at time of booking if you are planning to share time at the spa with a companion so we can endeavor to match your schedules accordingly.
CANCELLATION POLICY
If you need to change, reschedule or cancel an appointment please notify the spa as soon as possible. We have reserved this time exclusively for you, and a notice period is required to accommodate those waiting or wishing to reserve with us. Your appointment can be changed or cancelled up to 48 hours prior to your appointment time at no charge. Changes or cancellations within 48 hours are charged as follows:
A change or cancellation within 48 hours is subject to a 50% charge applied to the credit card you reserved with.
A change or cancellation within 24 hours is subject to a 100% charge applied to the credit card you reserved with.
No-show appointments will be charged 100% of the cost of services booked, applied to the credit card you reserved with.
Gift Cards and Vouchers for missed appointments will be forfeit.
For groups to avoid change or cancellation charges we require 5 days notice.
Making an appointment at iwa Spa is acknowledgement of this cancellation policy.
YOGA CANCELLATION POLICY
Our yoga studio can accommodate 10 yogis per class. As space is limited and demand is high, we do require a credit card to reserve your space. Our cancellation policies will apply: Your yoga reservation can be cancelled up to 48 hours prior to your appointment time at no charge. A cancellation within 48 hours is subject to a 50% charge and within 24 hours, a 100% charge will be applied to the credit card you reserved with. No-shows will be charged 100% of the cost of the class.  If you need to cancel, please give as much notice as possible so that someone on the wait-list can enjoy the class. Making a class reservation at iwa Spa is acknowledgement of this cancellation policy.
HEALTH HISTORY  
Massage Therapy guests will be required to fill out a Health History form. Your Clinicwise Health History Form can be securely completed online prior to your appointment by clicking here: Health History Form.  If you don't have a chance prior to your appointment, forms may be filled out on arrival on our iwa tablets.
Health information is collected in order to promote a safe and healthy environment for our guests, to ensure continuity of information from one visit to the next, and to assist in customizing treatments to individual needs, particularly if there are medical issues or allergies which could have contraindications for certain products or services. Your health information can be updated annually or at your convenience. This information is accessed only by your Registered Massage Therapist during your appointment, and is stored on a secure system, which is completely separate from our reservations information. It is important that the health information you provide is complete and accurate. This information is confidential and is required by law for Registered Massage Therapists.
CHECK IN 
If you are having a massage with a Registered Massage Therapist (RMT) please plan to arrive at least 20-25 minutes prior to your first treatment to allow time to check in and fill out a Health History Form on one of our tablets, if you have not already done so online.
For every other services, or if you have visited us before, please arrive at least 15 min prior to your appointment time, to allow time to check-in, store your belongings, and be ready to begin your scheduled appointment on time.
LATE ARRIVALS
To avoid disappointment, please be on time. If you are late, it will result in a shortened appointment or a rescheduled appointment with applicable charges. Arriving late will limit the time of your treatment. Your treatment will end at the originally scheduled completion time so that the next guest will not be delayed. Should you arrive more then 20 minutes late for your scheduled appointment time, the appointment will be cancelled and will be subject to our cancellation policy.
ENVIRONMENT
Please help us preserve a tranquil environment for all of our guests by lowering your voice and silencing your cell phone. Lockers are provided for your convenience. For the privacy of our guests cell phones and cameras are not permitted in the Ganban studio.
WHAT TO BRING & WEAR
A jinbei or robe, slippers and a secure space to store your belongings is provided. Shower facilities are available if desired, and almost everything else you may need is available: shampoo, conditioner, body lotions, and hairdryers.
During your treatment your body will be professionally draped at all times so it's up to you whether you disrobe completely or leave your undergarments on for your treatment.
If you are having a pedicure, we suggest that you bring open-toed shoes so your polish doesn't smudge before it has an opportunity to harden. Polish can be dry, but can take up to 12 hours to cure.
If you are scheduled for a yoga class, wear comfortable athletic clothing normally worn for yoga, or you may wear one of our jinbei's. We recommend bringing a water bottle, but a mat is not required as you want to spend as much time as possible on the warm stone. Knee mats are provided for poses that require some additional comfort.
iwa Spa is not responsible for lost or misplaced items. Valuables are best left at home.
THERAPISTS & RECEIPTS
iwa Spa therapists are all registered or certified in their profession. Receipts for treatments booked with a Registered Massage Therapist (RMT) are available for individual RMT services which are being paid for by the guest for reimbursement under many benefit plans. In the case of a third party paying for the Massage Therapy treatment on behalf of the client, and the charges go to a master bill, insurance receipts will be issued as per CMTO regulations: The receipt is issued in the name of the payer, and the description of service will read "Massage Therapy Treatment for _______" (name of the recipient of the Massage Therapy treatment).
Receipts are not available for Relaxation Massage or Reflexology services.
iwa Spa offers both male and female therapists subject to availability and booking times. Please note any gender preferences when booking your appointment.
MINIMUM AGE REQUIREMENTS
We are able to offer our manicure and pedicure services to those 12 and older.  Our massage, reflexology and ganbanyoku are reserved for those 18 +, unless authorized in advance by a manager. Health information is required by law from all guests regardless of age.
GRATUITIES
Gratuities are not included in the price of individual spa services, but are greatly appreciated by the therapists. Gratuity envelopes are provided at reception. For groups of 8 or more, a set gratuity will apply. For more information please contact groups@iwaspa.com.
LOCATION
We are located right in the Blue Mountain Village, just down from the the Mill Pond & Twist, next to North Face & Magnone's, and opposite the Westin Hotel. If you are using a GPS, please use 234 Gord Canning Drive, Town of the Blue Mountains in lieu of our mailing address.  If you are having trouble locating us, please give us a call and we'd be happy to guide you (705) 293-2492.
PARKING
A parking lot is located adjacent to the Mill Pond & Westin Hotel. iwa has six reserved parking spaces in this lot that are available on a first-come-first serve basis. Please provide your license plate number at check-in. The reserved spaces may be used for the duration of your spa services only. Unauthorized vehicles will be tagged & towed.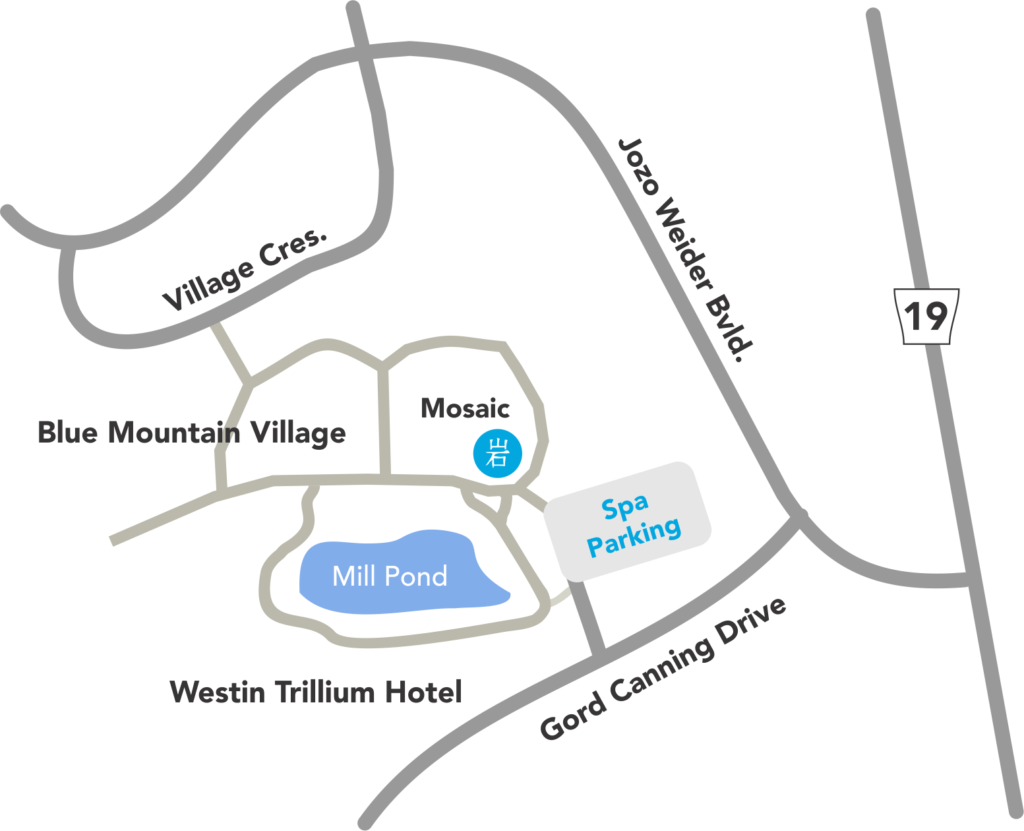 PAYMENT METHODS
We accept Cash, Visa, MasterCard, Amex, Debit, Blue Mountain Resort Vouchers with iwa Spa printed on them, or Gift Certificates. We do not accept WaySpa or Spa Finder gift cards.
FEEDBACK
Every client deserves the highest level of satisfaction. Although we do our best to anticipate your needs, we appreciate that a spa is a very individual experience. Please let your therapist know if there is any way to improve your treatment or comfort. For example: heavier or lighter massage pressure, an extra towel, sound or lighting levels, etc. We love your feedback – and surveys are available here: Survey. We also love reviews, which can be left on our easy to complete review page: Review. We strive to make each and every visit, the very best, and truly appreciate your feedback.
OTHER F.A.Q.
Can I have a  manicure or pedicure if I have a history of unhealthy nails?
If to your knowledge Onychomycosis (nail fungus) is present, please advise us prior to your treatment. Precautions will be taken during during your service(s). If you have Onychomycosis and would like polish as part of your manicure or pedicure service you are welcome to bring your own (top/base & colour) or alternatively you may purchase polish at the spa. If your spa therapist suspects you have Onychomycosis they will advise consulting your doctor to have it diagnosed. For the safety of all of our clients anyone with signs of Onychomycosis will be required to bring or purchase their own polish.
Do you offer shellac?
Please note that we do not offer shellac. If you are unable to have your shellac removed prior to your appointment we can help! Please allow an additional 20 minutes by booking a "shellac removal" prior to your manicure.
Are you a co-ed facility?
iwa Spa is a co-ed facility. A robe, a jinbei or appropriate yoga-wear is mandatory in our gan•ban studio.