About iwa spa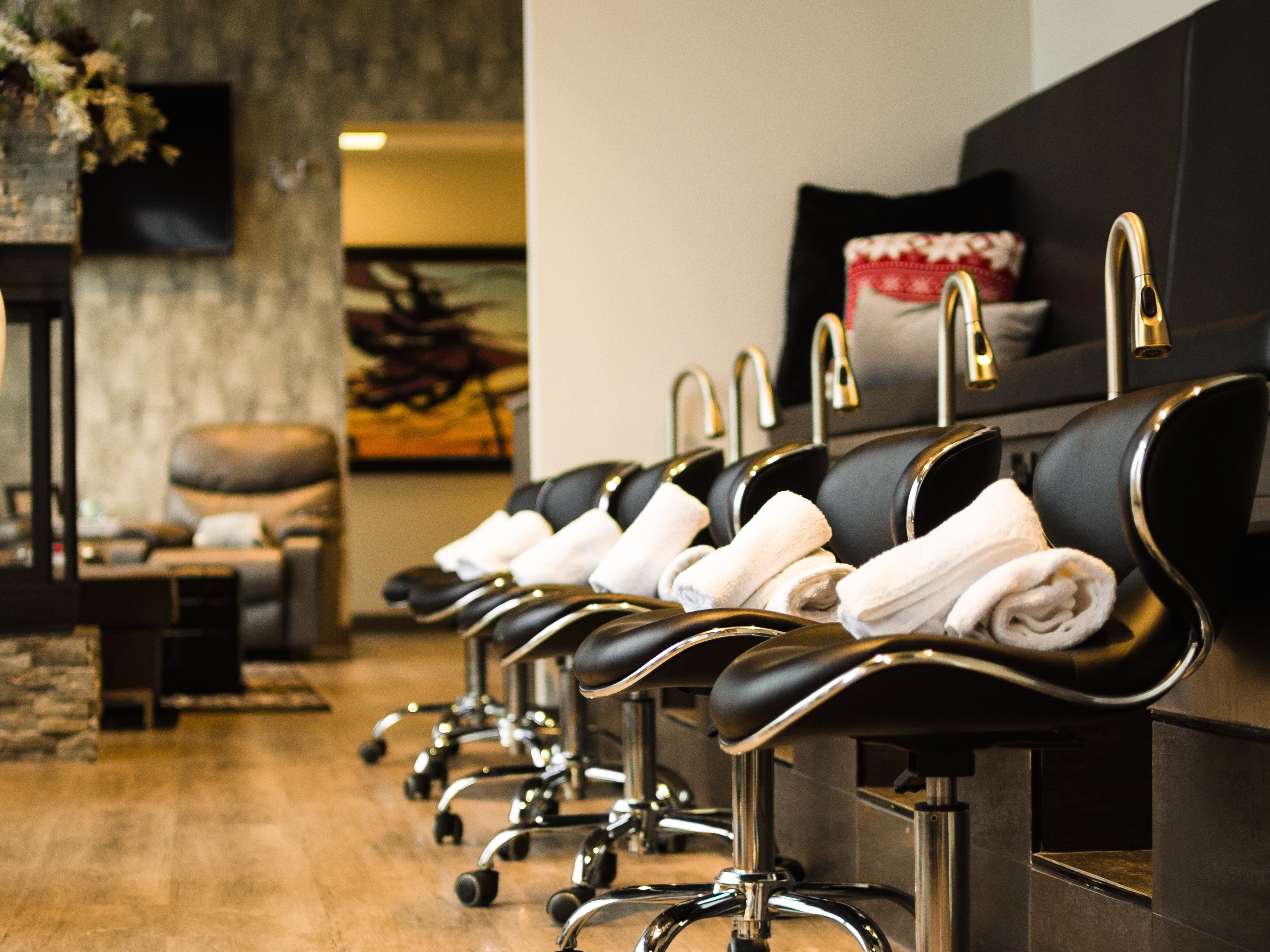 Featured Services
Massage Therapy
Facials
Gan•ban Volcanic Rock Therapy
Pedicures & Manicures
Couples Experiences
Pricing
Come experience iwa spa Blue Mountain, located right in the Blue Mountain Village. Try something new in our gan•ban suites and studio. Pamper yourself in one of our private spa suites or de-stress in our beautifully appointed massage and reflexology rooms. Practice yoga in our garden or Gan•ban studio. Our state-of-the-art custom built pedicure bench provides a stunning vista of Blue Mountain Village. Relax in one of our comfortable lounge areas while sipping on specially blended iwa tea. Come as an individual, group or couple. We look forward to welcoming you.
Our name "iwa" translates to rock in Japanese. iwa not only reflects the unique aspects of the Gan•ban Volcanic Rock Therapy, it also declares our vision to Inspire Wellness Always. At iwa we measure our success through smiles , laughter and how great you feel. This is our inspiration. Please let us be part of your wellness journey.
Feedback From Our Clients
"What a wonderfully relaxing experience in the ganban sauna room. From the moment we arrived we were pampered. Excellent little touches throughout the experience made this a highlight of my weekend getaway. Thank you!"

- Shelly M.

"Loved it. So courteous and attentive. Felt very special. Thanks to everyone for making my bachelorette an unforgettable day!"

- Cortney L.

"My partner and I visited iwa spa during a weekend away to celebrate our anniversary and both enjoyed iwa's signature massage. Our RMT's were professional and down to earth and we both felt very comfortable. Our massage therapists made sure to ask what areas we would like worked on and we felt amazing afterwards. The waiting lounge with massage chairs, free wifi, and frequent offers of water and tea (and chocolate!) from the friendly staff was great and the shower/changeroom facilities had everything we needed. Will definitely visit again!"

- Shannon B.

"Reflexology was amazing, I couldn't believe how much the therapist could tell about me by touching my feet, I was so relaxed after my service, I cannot wait to come back!!!"

- Melissa B.

"This was our second time getting a couples massage and both times were wonderful. Melissa and Charla were amazing. The spa is beautiful and everyone is so nice to deal with. Wonderful spot in a great village!! Will definitely be returning"

- Carrie T.

"We had a fantastic experience at the iwa Spa this past weekend. The reflexology was extremely relaxing and thoroughly enjoyable. I also had the iwa signature massage and was extremely impressed. The RMT hit all the right spots with the perfect amount of pressure. To finish our weekend off, we enjoyed an hour in the Ganban studio. Definitely will be back!"

- Leanne W.
"I found the Ganban-Yoku beds to be a great source of relief for my arthritis. I have suffered with arthritis in my feet for years – sometimes the pain is so bad I can barely walk. After an hour on the bed my feet felt little to no pain and I generally felt rested and relaxed. Great stuff! Wish I had found it years ago."

- Brad H.

"Had the best deep massage ever with Dave. Will defintely come back and see him."

- Cheryl L.

"Reflexology at IWA spa was incredible. As a sufferer of fibromyalgia, my reflexology treatment worked to calm my nervous system and unwind my stiff muscles. Truly amazing. I want to take that Lazy Boy massage chair home. A little bit of heaven"

- Tanya H.
"Complete and total relaxation with a killer view to beat. I had the perfect start to my day with a reflexology treatment at the beautiful iwa Spa. The iwa reflexology chair is like floating on a cloud. This is an experience that I intend to repeat often. "

- Marcia A.
"Restorative Hot Rock Yoga was amazing. It's a great place to relax, stretch, breathe and heal."

- Miranda K.
"Beautiful spot to relax and rejuvenate! We enjoyed the sun on their fabulous patio before going in for a chill and mountain man pedi -which were both awesome and a great way to spend the day together and reconnect."

- Kristin N.

"I had the pleasure of experiencing Restorative Hot Stone Yoga. You must try this deeply healing, super gentle and restorative class. Excellent instruction also :)"

- Sarah H.

"The staff is all extremely friendly and the spa is beautiful. The relaxation massage was very relaxing and was much better than any other spa I visited. The spa is also accommodating of large groups which worked out well for us. Definitely recommended this spa to anyone visiting the village or nearby areas."

- Felishia A.

"A wonderful experience. I had a pedicure and massage. The staff were very professional and genuinely friendly. The facilities are very clean and beautifully decorated. My booking experience was very easy and the sent me reminders and a follow up thank you. I will definitely go back when visiting Blue Mountain."

- Christine B.

"The best reflexology massage I ever had, thank you Tracy! I highly recommend Iwa Spa to everyone! The staff are very friendly, they make you feel comfortable and the spa is stunning!! It's the little gem in the village."

- Jane H.

"Excellent relaxation massage,facial and pedicure….amazing, professional staff and a beautiful interior to this spa…highly recommend it!"

- Joy S.

"Such a tranquil and serene experience my therapist made me feel so relaxed and chilled, forgot where I was. Amazing from the introduction of treatment to the tea and yummy chocolate at the end. Would highly recommend this to anyone."

- Samantha B.