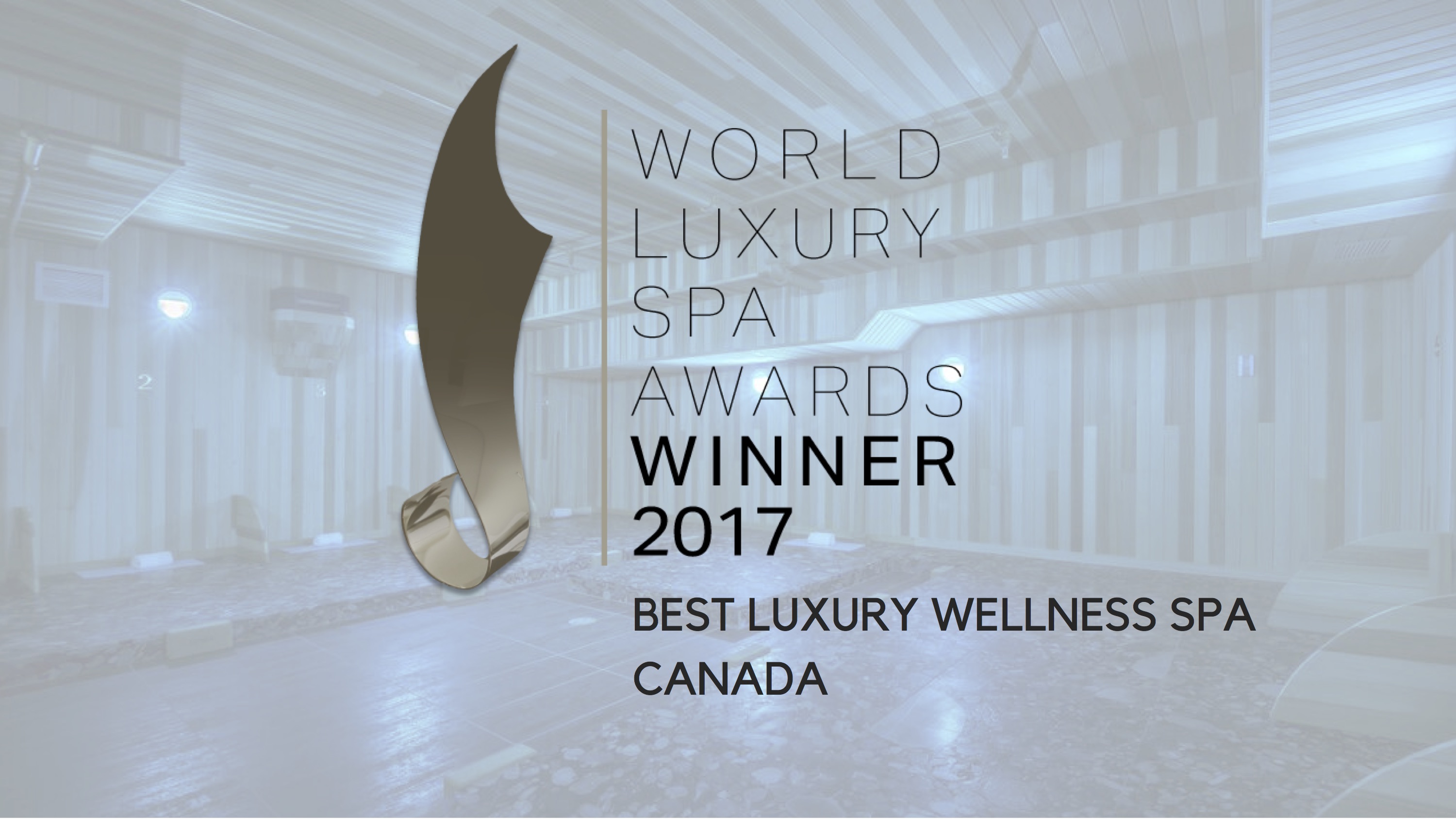 All of us at iwa Spa feel extremely honoured and privileged to be representing Canada as the recipient of this international award. 
iWA SPA WINS 7TH PRESTIGIOUS AWARD
FOR IMMEDIATE RELEASE
July 26th 2017
Town of The Blue Mountains, Ontario, Canada– iwa Spa has been awarded "LUXURY WELLNESS SPA OF THE YEAR, CANADA" announced at the 2017 WORLD LUXURY SPA AWARDS GALA CEREMONY hosted by the JW Marriott Hanoi, Vietnam on July 22nd 2017.
iwa Spa won this International award for Canada wide award through a combination of nomination and spa guest voting. Voting – Is based on service excellence and is cast by spa guests. Spas receive voting information and are required to conduct voting campaigns and satisfaction feedback amongst guests. Nomination – The Awards judging criteria is purely based upon service excellence, size of a spa is not taken into consideration during the nomination phase.
Setting benchmarks in quality, innovation and service for spas around the globe and established as the world's leading Awards initiative for luxury spas, the World Luxury Spa Awards sets the spotlight on award winning spas. Awards are presented to luxury spas in 32 different categories on a country, regional, continent and global basis. The World Luxury Spa Awards aim to encourage and raise service standards within the luxury spa industry.
"We are thrilled to win this prestigious global award; this is our SEVENTH significant award since we opened less than 2 years ago (Sept 2015). I'm so glad to see our focus on wellness and delivering an outstanding guest experience be recognized" says Michelle Ubell owner of iwa Spa. In addition to this Canada wide award, iwa Spa has also been awarded Best Hidden Gem & Top for Yoga in 2016, Top Luxury Spa Ontario- 2016, Top 25 Spa's in Canada 2016, Top New Spa in Canada- 2015 and 2016 Collingwood Chamber of Commerce Business Excellence Awards for Services, Industry and Trades.
iwa Spa is a full service wellness spa, based in beautiful Blue Mountain Village. The spa offers a wide range of wellness inspired services, creative spa packages, a boutique loaded with amazing products and a truly one of a kind yoga practice in the warm volcanic rock studio (Ganban-yoku). Iwa recently launched a fresh contemporary approach to spa services with a unique facial lounge delivering on a FARM to FACE wellness approach.
Our vision at iwa is to Inspire Wellness Always (I.W.A.) – we do that with every interaction our guests have with the spa, from a custom built pedicure bench using stainless steel vessels, to specially selected natural skin care products, to how our very welcoming and friendly staff make you feel. Even the smallest detail such as custom blended tea and a taste of chocolate with local maple syrup are all designed to make our guest feel fantastic.
The spa offers easy access to spa treatments for resort guests and locals alike, stunning views of the escarpment and combination unique, incredible spa services. Traditional spa treatments such as facials, manicures and pedicures are enhanced with amazing body products from Farmhouse Fresh line of skin care products. Massage at iwa is one of our core wellness activities with a guest choice of five different massage offerings. Ganban Volcanic Rock Therapy is a must-try experience, laying on volcanic rock that emits far infrared rays and negative ions.
iwa Spa offers wellness solutions for individuals, groups and couples. Owned and family operated.