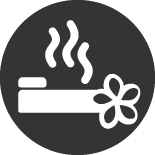 While new(ish) to North America this spa experience continues to increase in  popularity in Japan and Australia (about 1000 of them), the concept originated in Indonesia.  Folk lore would say that macaque monkeys would lay for hours on river rocks soaking up the heat radiated from the sun warmed  rocks. Funny how nature can point us to things that will make us feel great!
The Science Behind Ganban~Yoku?
The rocks emit far infrared rays and negative ions, laying on the heated rocks dressed in yoga wear you start to sweat like crazy! The rising popularity of far infrared saunas speaks to the benefits of this type of radiant heat. Proven to aid significantly with  muscle and arthritic pain and weight loss , the treatment is a natural detoxifier. It also makes you feel and look great, why? according to Bliss Stone Spa in New Zealand the heated body produces sebum from the sebaceous gland supplying a natural coating for the skin and hair – they also recommend you don't shower for 2 hours afterwards to  gain the most benefits to the skin and hair.
Personally, I love the hot yoga on the rocks! Come check it out. Classes will begin September 8th. You can also schedule a private one on one yoga class by emailing yoga@iwaspa.com!