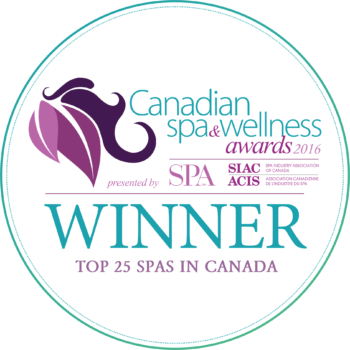 Town of The Blue Mountains, Ontario, Canada – iwa Spa has been chosen as one of the Top 25 Spas in the 2016 Canadian Spa & Wellness Awards, presented by Spa Inc. and the Spa Industry Association of Canada (SIAC). This award signifies a commitment to providing superior quality and the highest standard of care within Canada's spa and wellness industry. The 2016 Canadian Spa & Wellness Awards received more nominations this year than ever before, making this award an extraordinary achievement in the spa's second year of business
"I'm thrilled to see our vision of inspiring wellness always be validated by this prestigious award." says Michelle Ubell CEO and founder of iwa Spa. The spa, which opened in the Summer of 2015, has been a phenomenal addition to the Blue Mountain Village and was also awarded "Best Hidden Gem" and "Best Yoga" at the 2016 Wellness Travel Awards, and "Luxury Spa Of the Year in Ontario" by the Luxury Travel Guide, as well as a 2016 Collingwood Chamber of Commerce Business Excellence Awards for Services, Industry and Trades. In 2015, the spa was awarded "Top New Spa in Canada for 2015" at the Canadian Spa & Wellness Awards.
iwa Spa is a full service wellness spa, based in beautiful Blue Mountain Village. The spa offers a wide range of wellness inspired services, creative spa packages, a boutique loaded with amazing products and a truly one of a kind yoga practice in the warm volcanic rock studio (Ganban-yoku). Ganban yoga is not available anywhere else in Canada, making it a true hidden gem and one of a kind yoga experience. Our vision to Inspire Wellness Always (I.W.A.) comes to life with every interaction our guests have with the spa, from a custom built pedicure bench using stainless steel vessels, to the ability to select your preferred music in-room, to how our very welcoming and friendly staff make you feel. Even the smallest detail such as custom blended tea and a taste of chocolate with local maple syrup are all designed to make our guest feel fantastic.
The spa offers easy access to spa treatments for resort guests and locals alike, stunning views of the escarpment and combination unique, incredible spa services. Traditional spa treatments such as facials, manicures and pedicures are enhanced with amazing body products from Farmhouse Fresh and iwa's own line of skin care products. Massage at iwa is one of our core wellness activities with a guest choice of five different massage offerings: Indian Head Massage, Reflexology Massage, Thai Yoga Massage, Relaxation Massage and full body, deep tissue delivered by an RMT (Registered Massage Therapist), Ganban Volcanic Rock Therapy is a must-try experience, laying on volcanic rock that emits far infrared rays and negative ions. iwa spa offers a stunning Restorative Yoga class directly on the volcanic rock in our yoga studios and garden. Private group yoga, and private 1:1 yoga is also available in one of our two private Ganban suites.
Iwa Spa is family owned and operated by Cam and Michelle Ubell